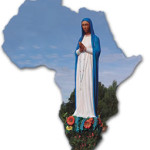 There are numerous apparitions of Mary where the Mother of Christ foretold of coming chastisements, wars and periods of human suffering.
If someone ever asks… "Show me an Apparition where the prophecies of Mary came true?"…
You would have to look no further than Kibeho Africa. 
On Nov. 28, 1981, at a time of increasing tension between the Tutsis and the Hutus in Rwanda, Mary appeared to 3 young girls at Kibeho College, a secondary school for girls. In one of the most powerful apparitions, Mary shared with the girls an apocalyptic vision of Rwanda descending into violence, horror and hatred.
She said unless people repented, that horror would soon be upon them.
In retrospect… and a sign to the authenticity of the Marian apparition, Rwanda fell into civil war and the 1994 Rwandan genocide claimed the lives of over 800,000 individuals.