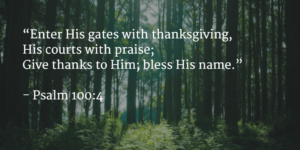 When one of them saw that he was healed, he came back. He praised God in a loud voice.
He threw himself at Jesus' feet and thanked Him.
The man was a Samaritan. When Jesus saw the Samaritan, He immediately wondered about the other nine men who had also been healed.  Jesus asked, "Weren't all ten healed? Where are the other nine? Didn't anyone else return and give praise to God except this outsider?"  Then Jesus said to him, "Get up and go. Your faith has healed you."
Did you remember to Give Thanks and Praise to God for his help?
I will Extol You, O Lord… You have turned for me my mourning into dancing; You have loosed my sackcloth and girded me with gladness, That my soul may sing praise to You and not be silent. O LORD my God, I will give thanks to You forever.
Offer Praise and Thanks to God!
Thankyou prayer warriors as my today's PRAYER and yesterdays prayers are answered by abba father jesus Christ mothermary st rita st jude st anthony st expidite....AMEN
today was a very awesome day of mine as everything that seemed impossible was possible bcoz of jesus christ
1.as i had ordered a cake for my sister which i wasn't sure whether the plan of ordering will be successful or not but then all went well and also when i was about to celebrate my sister's birthday something went wrong but after praying all went according to me through my lord jesus christ
2.when i asked my uncle to give me the permission to go at my friends house as i was feeling bored and all went successful he allowed me to go which was impossible and i was scared to ask him but by praying all went great
3.as i was telling my best friend about the word of God but as she is hindu and when i was telling her the gods word i was scared if tell her about all false gods which she is praying to as she is hindu but when i prayed to my god my God gave me the courage to tell her and even about not ending our friendship as i had got scared that when i will tell her about the false god she will end our frienship but by Gods grace all went well and she was interested in listening to gods word...
4.as lord didnt let my bad six sense come true and he helped me throghout my day ....
and i am very thankful to my god as he also helped me when guest had come to visit as usually i used to get scared and not talk bcoz of stammering but my lord has showered his blessings on me and has pour out his grace on me and the holy spirit was with me...this precious Thanksgiving i give in jesus name....AMEN

Thankyou prayer warriors as my today's PRAYER and yesterdays prayers are answered by abba father jesus Christ mothermary st rita st jude st anthony st expidite....AMEN

i would like to give you my Thanksgiving testimony....that my mons mom's phone was lost and i had prayed to my abba father jesus christ mothermary st.rita st.jude st.anthony st.expidite and my mom got her phone and for this i am very thankful to my lord....also another Thanksgiving testimony that my parents didnt send me with my aunt for a prayer meeting which i wanted bt also when they had not send me i was sad and upset bt had prayed that let my dad not scold me or remove all his anger or temper coz he's not the person with understanding he is like he removes and keeps on mammering on that particular topic and i get fear of him and so as i had prayed all my prayers went the way i wanted and praises to my ABBA father jesus christ mothermary st.rita st.jude st.anthony st.expidite and my jesus never forsakes me nor he leaves me....and also todayy God made a miracle that as he's not talking with me for i didn't receive his call coz was impossible for me and my friend had called me for women day celebration and so i wanted to attend it but was afraid coz of my dad but then i raised my voice to jesus like jesus jesus and he heard my cries and my prayers and i was possible to go and had prayed that let my dad not come at home till i arrive at hine and it happened so i was able to attend it peacefully and gracefully and my prayer was knwn to god ....thankyou lord you showed your mercy today and every day on me and i praise you god evermore and forever.....amen

A few weeks ago one of the levels in my liver were very high I could not eat or do my daily routine I wrote and ask for Our blessed mother intercession i visited the shrine in my home town and by the evening I experienced healing I did the blood test and the level in the liver dropped dramatically. Praise the Lord and Our blessed mother .

Thank You Blessed Jesus for Your healing and reducing the pains in my ribs side and rear, also reduced in shoulder blades and thoracic spine.
Thank you Blessed Virgin Mary, St Joseph my Patron Saint, the Apostles and Disciples, and thank you to all the Saints and my Guardian Angel, Holy Souls, the Archangels for your intercession and help in reducing the pain. I was in a very bad state both physical and mental with depression from constant pains. I will continue to pray daily as I have these past years for Holy Souls, my family, my deceased parents and relatives and myself.
Thank You Jesus for saving my life and bringing me back to my Catholic Faith
My love to You, Jesus I Trust in You, Thy Will be done.
Amen.
Brian Joseph Francis ... .. .....


Praise the Lord always. Be thankful to him always. Glorify Him in all you do. He is faithful in all his promises and his love endures forever. Ask and you shall receive. Knock and the door will be open. Ask Him your questions, trust Him in your doubt. His answers are instant , be still, be quiet, be watchful. Seek first the kingdom of God and his righteousness and all these things will be added unto you. I have seen it with my own eyes, His glory, His love, His forgiveness, his truth. His signs, wonders, and miracles are the same today as they were yesterday, as they were in the beginning, so they will always be. I have seen them with my own eyes, in my own life. Praise the Lord for he is worthy. I thank God for all he has done and is doing in my life and in my family's, all praise, glory and honor is His today and always

In Jesus Christ almighty name thanks to all for your prayers support for my sister Sujatha who was trapped by my relative. By grace of God my mother went to the police station but police took bribes from other party and he is delaying the case and no action from officials. I am in Saudi now and next month I am going to India 2-Dec-19 to resolve the issue. I need your prayer support. We believe our almighty God will be with me and will deliver my sister from all evil things. I request you all to pray for my family, especially for my sister Sujatha to join back to my family with love and peace. This is urgent request and bottom from my heart I am requesting to uplift in prayers in Jesus almighty name.

In Jesus Christ almighty name thanks for your prayers for my son Daniel Phinehas 11 months old. I requested your prayer support for open heart surgery on 27-Sep-19 and now he recovered well. He was discharged on 07-Oct-19 and now one month finished and by the Grace of Almighty God he is fully recovered. I am in Saudi and next month going to India for his first birthday. From the bottom of my heart I am thankful to you all and requesting to continue for him for his health and God's presence on him.

Naren here. I live in Calgary Alberta Canada. Do need a miracle from Christ do help me Lord Jesus to work in BC California



In Jesus Christ almighty name thanks for your prayers for my son Daniel Phinehas 11 months old. I requested your prayer support for open heart surgery on 27-Sep-19 and now he recovered well. He discharged on 07-Oct-19 and now one month finished and by Grace of Almighty God he is fully recovered. I am in Saudi and next month going to India for his first birthday. From bottom from my heart I am thankful to you all and requesting to continue for him for his health and God presence on him.

Thank you Jesus and Praise God.By grace of God and so many people s pray for my today Legal Seminar program.Because of them prayer we get successful in Legal Seminar. So thank you Jesus and Praise you Lord


Thank you Jesus Christ for the things that i see your changing and the things that I don't see that ur working on in my life .Thank you Amen

Thanks to God Jesus Christ till i take my last breath of life for breaking all the proposal of my life and keep me and my boyfriend together bringing us till here in our life. And taking us till our marriage and starting a God blessed family. Thanks for my parents understanding thanks for God Jesus Christ changing my parents thinking and Jesus Christ for not taking my parents away from me thanks Jesus for keeping me and my boyfriend and my parents strong. Thanks God Jesus Christ for hearing my and my boyfriend and my parents prayer thanks for this life.Till i take my last breath i'll remember all your love and blessings that you have poured upon us. THANK YOU JESUS CHRIST

Thanks Lord Jesus
There was a time when I was searching my job and with the blessings of your. I finally got my job thanks Lord Jesus thanks very very much.

There was a time when I prayed for something dear my heart and God answered. Not only that but more. I didn't thank him enough and I'm sorry I didn't. I want too now because I realize what God did then was beautiful and truly a miracle. Thank you Jesus for that time I had with Rebecca and holding her hand. You answered my prayer, and God you gave me happiness I never had before. Thank you In Jesus name I love you. Amen.

Father in the name of Jesus, I ask my husband to return back to us, my son Raphael and myself. Idecree restoration and reconciliation and forgiveness in our love. I remove every strange women confusing him. May he see me as the woman he loves and put our son priority in his life. I pray O Lord that he becomes more responsible, loving and may his heart melt and be softened as flesh for us. Break the hold of any dark spirits in his life. Break the hold of any lover or demonic attacks in our relationship. Break the spirit of pride and u forgiveness and unprofitable friends. Command a storm and spiritual tornadoes to blow away any opposition in our affair. Mast the love for us grow with great passion. Break the spirit of list and imoral behaviour in Chuks Johnbull Nwayiebon. In the name of Jesus.

Thanks for making my dream a reality god
And all the saints of1 Jesus that helped
I praise you in the highest
Amen

God thank you for being with me and Abhishek today were we stand its all because of your blessing and miracles . Thank you Jesus Christ for giving us the job when we were so worried about life you gave us the Job. Thanks Jesus Christ for Abhishek increment and father thank you for giving us time to pray for our marriage. I don't know Abhishek will be thin from his body fat or not but father thank you for the hope and prayer that you have put in our life for marriage. Thank you father for our parents who loves us so much hope they love us as you love me and Abhishek and Jesus Christ bless us father we might get your blessing for our marriage automatically parents will agree Just u Jesus Christ have to bless us and we will do our best to get ur blessings. I commit my life Abhishek my parents life unto ur hands let your will your way and your wish be fulfilled in our life Jesus Christ our father. Thank you so much Jesus Christ for everything thank you till I die if I say thanks not enough that much you have done to us father

My name is Sabastian working in Riyadh, Saudi Arabia. I requested all to pray for my family. For my son Daniel Phinehas we went for medical checkup and doctors advised us to come after three months to have the open-heart surgery. Pray for my son for Pulmonary stenosis & hole in heart. I believe our Mighty God will heal without surgery.
For my family issue which my sister (Sujatha) still she was stubborn not respecting any one in my family. We went for help with higher authorities (police) and at present by counselling of police she is in control. Please continue to pray for my sister spiritual life and release from satanic bondages.
I am thanking for your prayer support during these 28 days as per God's will and plan.


Thanking God for giving me clients for two 40ft. container animal sculptures order and giving me divine connection of organizations that will give me the platform/connections to get host venues contracts & collaborations for my traveling exhibitions. Asking God to help me with my current relationship situation with Federico Cordovez. Heavenly Father, please take away all the pain and hurt in my heart. Fill it with love, joy, patience, and understanding. Bless me and my partner Fed, so that we may never surrender to whatever challenges that come our way. Fill our hearts with love for each other, and may you make each one of us realize each other's worth. Please touch the heart of my partner Fed,fill it with much love for me.Make our complicated relationship become uncomplicated. I seek for your mercy and blessing that you may allow us to spend the rest of our lives with each other. Please make this feeling mutual for both of us. Lead us not into temptations. Guide us wherever we go. Always put us in each other's heart and mind. Thank you Lord for hearing my prayer in Jesus Name Amen.

Pray for me Mshauri to get amazing money (abundance of money)

I make a wish today and make other wish long time I want to my wish come true all of them please pray for me

In the name of AlmightyJesus, let GodJesus be everlasting AlmightyJesus forever Amen.

In the name of AlmightyJesus, let all living creatures, Human beings and Angels praise, pray, worship, thank , celebrate and be loyal to everlasting AlmightyJesus alone forever Amen

I am here to share a praise report! Not long ago, I came to request intercessory prayer on behalf of myself and my cat to not be evicted, as well as for for my living situation to be stabilized. I also asked for prayer for my cat to be healed from his constipation and his urinary tract infection as well. Thanks to your prayers in Jesus name on our behalf, he is now fully healed, and I am also in a far better place to live at lower rent as well. Our Lord Jesus responds to fervent and faith filled intercessory prayers! Thank you and may our Lord Jesus bless you all!

Hello, I was praying for my boyfriend Abhishek for his job and for our marriage God heard our prayer and provided him with such a good job it's his first job each day I thank My Father Jesus Christ for providing him job.

For our marriage still problem is there parents not willing searching other boy we are trying our best to win there hearts.

We are praying for that still like how God provided job like that only God will.also provide us a happy married life with God's blessing and parents love we believe. Just that pray what we are praying is God's will so no one can stop us and we are walking in God our father Jesus Christ way.
Thank you father Jesus Christ for being mine and Abhishek father taking us as ur childrens and providing us with all that we need thank you so much.

Dear God, I was in a car-accident today. I just want to thank you Lord. Thank you so much for everything. I don't have a scratch on me, my car is not majorly damaged even though it was a rainy and wet highway accident, no other cars were involved... Thank you God. I praise You today, also for chastising me. Thank you for caring about me, and for keeping me out of the gates of hell. Hallelujah to You my Creator and Savior Jesus Christ. John 3:16 Amen.

PRAISE GOD. ALL THE GLORY TO GOD. THE LORD HAS ANSWERED MY 1, 2, 3, 4, 5, 6,7, 8,9,10, 11, 12 and 13 PRAYER TOPICS IN THE PAST 50 DAYS. THE LORD RICH BLESS AND REWARD 20 FOLD FOR ALL YOUR LOVE AND PRAYERS. PLEASE CONTINUE TO PRAY FOR ME AS MY TOPIC OF RAISING BODY PRESSURE AND NEW JOB YET TO BE ANSWERED. THANK YOU. GOD BLESS YOU ALL.

pray! for me i want to get good marks in exam


The name of the LORD is a strong tower; the righteous man runs into it and is safe. Proverbs 18:10 Lord Jesus Christ in Your Mighty Name I Praise You for keeping me from poisonous sprinkler systems and the poison pouring from it 3 days ago. Thank You for continuing to unveil the Cartwright like family and rich and powerful in the Spirit who are conducting Abominations against children and adults in SB while local law enforcement covers it up. I pray for continued hedges of protection and bringing these people into Your courts for Justice. And will not God bring about justice for his chosen ones, who cry out to him day and night? Will he keep putting them off? Lk.18:7
Praise Him Thank Him Amen

Thank you AlmightyJesus for giving me happy, peaceful, prosperous and joyful life forever Amen

A541 helping out the lord king god queen creator rulers.
A541 memoirs of Keith Trevor Larson.

New World Order Bible.

September 15, 2018

I did not always start out rich and successful. I was with my mom who said "Trevor you and I are going to go to a new world universe kingdom and I want you to believe you are a king boy person. I want you to volunteer paid to help out whoever is the greatest richest most successful in this world."

I said "Yes mom." I said "I will write letters to whoever it may concern that I will help out those who are the best richest most successful in this world universe kingdom."

Mom said "you are doing the right thing now."

Song: if you want to be great in God's kingdom learn to be the servant of all.

I said "I will help out those who rule the world."

The story goes that my letter to help went around the world. I went to many countries kingdoms states provinces. I was told "You Keith Trevor Larson won't be labor you will be a lord king believer person." KTL.

Thank you God for giving me and Abhishek strength to do things that pleases you. Helping us to be strong in our prayer helping us to do what we decide to do thank you father for being our God.

I and my friend used to pray daily for Job and he got interview call letter he wanted so much to work in this company. We both thank God so much for hearing our prayer and his grace and mercy upon us. THANK YOU MY LORD JESUS CHRIST. And thanks to all the God's people who prayed for us.

I prayed for my marriage with Abhishek and God did make a way for it to happen in his timing on a beautiful day. Thank you Lord for ur blessing upon us and hearing our prayer. Truly ur a true living God who answers our prayer thank you so much Lord Jesus Christ.

I did not believe that I would be healed from the sickness that almost took my life. I want to ask for forgiveness that I could not see it possible. Thank you, G-d for healing my body.
I do not believe that my soul can heal, but I know I'm being foolish again, my soul will heal, too. So I'm thanking G-d for the healing of my soul. May I live in respect, honor, prosperity and peace and be loved. May I never go through the immense suffering I put myself through. And forgive and help the partner who helped me and also made me suffer like that.

MY FRIENDS.. I don't believe what happened.... My problem was suddenly resolved witnin ~1 week after 6 years of blockage. I turned back and found my prayer request in this website. THANKS A LOT TO GOD an all of you for your prayers. I can't believe this, and I don't know what to write. I am just in shock.. I swear you it was resolved within 1 week after 6 years of blockage..It's unbelievable. I was not fully christian, and not living in a christian country; but just requested from Jesus........... Oh my God..Thanks A LOT.. I really wonder who prayed for me.

Thank you to all those who prayed for us. Last week, I attended Court and by the grace of God, I was acquitted. Those servants of the devil were not believed by the judge, who was appointed by Jesus to destroy their wicked plot. Thank you to Jesus, Mary, the Holy Spirit, to St Anthony, St Charles the Good, St Therese, St Joseph and St Michael.
Thanks again to all of you who remembered is in your prayers! God bless you all! 🙂

I prayed that the Lord help me find strength to get through an MRI, and he did. Thank you so much, Lord. You are an almighty and ever loving God.


Don had a perfect procedure done this morning on his heart. Everything went flawless. Thank You Dear Lord. " I will praise you, Lord my God, with all my heart; I will glorify your name forever."
Offer your thanks and praise here:
Offer Praise and Thanks to God!