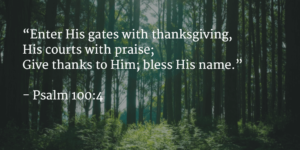 When one of them saw that he was healed, he came back. He praised God in a loud voice.
He threw himself at Jesus' feet and thanked Him.
The man was a Samaritan. When Jesus saw the Samaritan, He immediately wondered about the other nine men who had also been healed.  Jesus asked, "Weren't all ten healed? Where are the other nine? Didn't anyone else return and give praise to God except this outsider?"  Then Jesus said to him, "Get up and go. Your faith has healed you."
Did you remember to Give Thanks and Praise to God for his help?
I will Extol You, O Lord… You have turned for me my mourning into dancing; You have loosed my sackcloth and girded me with gladness, That my soul may sing praise to You and not be silent. O LORD my God, I will give thanks to You forever.
People Offering Thanks and Praise to God!
I and my friend used to pray daily for Job and he got interview call letter he wanted so much to work in this company. We both thank God so much for hearing our prayer and his grace and mercy upon us. THANK YOU MY LORD JESUS CHRIST. And thanks to all the God's people who prayed for us.

I prayed for my marriage with Abhishek and God did make a way for it to happen in his timing on a beautiful day. Thank you Lord for ur blessing upon us and hearing our prayer. Truly ur a true living God who answers our prayer thank you so much Lord Jesus Christ.

I did not believe that I would be healed from the sickness that almost took my life. I want to ask for forgiveness that I could not see it possible. Thank you, G-d for healing my body.
I do not believe that my soul can heal, but I know I'm being foolish again, my soul will heal, too. So I'm thanking G-d for the healing of my soul. May I live in respect, honor, prosperity and peace and be loved. May I never go through the immense suffering I put myself through. And forgive and help the partner who helped me and also made me suffer like that.

MY FRIENDS.. I don't believe what happened.... My problem was suddenly resolved witnin ~1 week after 6 years of blockage. I turned back and found my prayer request in this website. THANKS A LOT TO GOD an all of you for your prayers. I can't believe this, and I don't know what to write. I am just in shock.. I swear you it was resolved within 1 week after 6 years of blockage..It's unbelievable. I was not fully christian, and not living in a christian country; but just requested from Jesus........... Oh my God..Thanks A LOT.. I really wonder who prayed for me.

Thank you to all those who prayed for us. Last week, I attended Court and by the grace of God, I was acquitted. Those servants of the devil were not believed by the judge, who was appointed by Jesus to destroy their wicked plot. Thank you to Jesus, Mary, the Holy Spirit, to St Anthony, St Charles the Good, St Therese, St Joseph and St Michael.
Thanks again to all of you who remembered is in your prayers! God bless you all! 🙂

I prayed that the Lord help me find strength to get through an MRI, and he did. Thank you so much, Lord. You are an almighty and ever loving God.


Don had a perfect procedure done this morning on his heart. Everything went flawless. Thank You Dear Lord. " I will praise you, Lord my God, with all my heart; I will glorify your name forever."
Offer your thanks and praise here:
People Offering Thanks and Praise to God!